Welcome to Buloke Farm, producer and supplier of fresh, natural, tender nutritious meat.
Our Farm was established in late 2011, however as a family we have been farming since my Great Grandfather started in 1947.
We produce quality livestock that are only grass fed. We do not lot feed, grain fed or use any other genetically modified stock feeds and we do not use growth hormones. We strongly believe in the ethical treatment of animals and we prioritise animal welfare issues and stress minimisation, all of which result in stock that are calmer, easier to handle and produce exceptionally tender meat.
Grazing in the natural bushland of our farm provides a huge variety in their dietary intake, including native grasses and fresh rainwater dams producing tender, healthy and clean animals. We believe we get the best out of our animals by allowing the cow to wean the calf naturally, walking among our animals regularly and handling them gently, all of which result in low-stress cattle that are calmer, easier to handle and produce more tender beef.
We try and keep our animals as calm as possible. We take the animals in for harvesting ourselves, that's so we can control the transportation part of it and ultimately the stress levels of the animal prior to processing. It's about quality; stress can severely downgrade the final eating quality of the meat.
We deliver direct to your door, after processing by a locally accredited butcher, who has prepared and labelled all packs.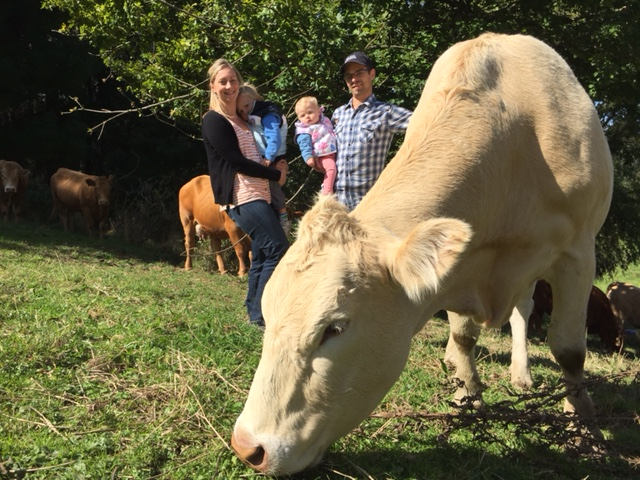 Blonde d'Aquitaine X Angus Breed = Lean Beef

The benefit of crossing Blonde and Angus cattle means you get a high beef to fat yield. Blondes are renowned for their muscle and high beef to bone ratio, while the Angus provide just enough fat cover to allow the perfect amount of dry ageing. Lean beef, less fat combined with better ageing processes and cooking guides allows us to provide you with the ultimate in beef excellence
By choosing to purchase Buloke Beef you are purchasing quality beef at affordable prices and supporting local farmers and businesses. We look forward to providing a true paddock to plate experience, one of quality, consistency and ongoing fresh beef supply.