Order now, we'll then confirm our next expected harvest date. When our animals go off to harvest we'll invoice you... So order now, pay later. We are currently offering 10% discount for ALL customers purchasing a Whole Lamb Pack, and 10% discount to Return Customers purchasing Beef Packs.
Beef
1/8 BEEF PACK
24kg at $22 per kg
$528
1/4 BEEF PACK
48kg at $21 per kg
$1008
LARGE BEEF PACK
80kg at $20 per kg
$1600
Beef Small Pack
12KG SMALL BEEF PACK
12kg at $22 per kg
$264
We can supply beef and lamb carcasses, primal cuts or butchered to your liking on a regular basis.
All our beef packs contain Porterhouse Steak, Rump Steak, Scotch Fillet, Eye Fillet, Oyster Blade Steak, Blade Roast, Stewing Steak, Osso-Bucco, Silverside Roast, Topside Roast, Brisket (Minced). They come as a variety of Steaks, Roasts, Schnitzel, Sliced or Diced, Fine & Course Mince, and Sausages Or Sausage Mince (Gluten Free).

This year we have updated our Small Beef Pack to 12 kg to provide a better balance. All standard cuts are now included in this pack.
All of our lamb packs contain Leg, Short Loin, Loin Cutlets, Forequarter, Shank and Lamb Pieces.
To Order select a package, register then select your butchering options.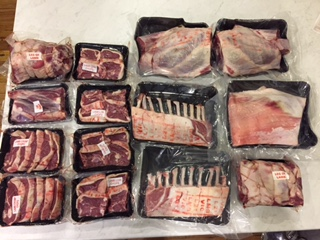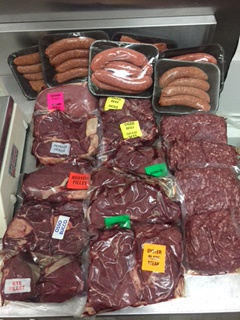 Beef Packs
Large Beef pack ~ 80kg is $1,600...........$20/kg
1/4 Beef pack ~ 48kg is $1,008...............$21/kg
1/8 Beef pack ~ 24kg is $528..................$22/kg
Small Beef Pack, 12kg is $264................$22/kg
Lamb Packs
Whole lamb, ~ 20kg is $360......$18/kg
Half lamb ~ 10kg is $180............$18/kg
Delivery -

We offer the added convenience of delivering direct to your door, after processing by a locally accredited butcher, who has prepared and labelled all packs.
Melbourne delivery will usually be on a Monday; you will be advised of this in advance. Delivery is usually $22 by a certified meat courier. You can also pick up from our butcher DiGrandis' Quality Cut Butchers. Address 58 Commercial Place, Drouin VIC.
Major delivery routes are from Gippsland to Melbourne, including Warragul, Pakenham, Berwick, Dandenong, Frankston, Mitcham, Clayton, Hampton, Richmond, Toorak, St Kilda and CBD. We will however deliver to all other area's within Melbourne including Northern and Western Suburbs.
NEW - Delivery to anywhere in Victoria: We can now delivery to all parts of Victoria. There is a surcharge depending on your location. Minimum charge for one order is $29, however if multiple people order from the same location this cost is reduced.
Sydney delivery will usually be $25; you will be advised of this in advance. Delivery will be by our certified meat courier and butcher Lucas Meats in Bronte. This is where orders can be picked up also. Address 48 Macpherson St, Bronte NSW.